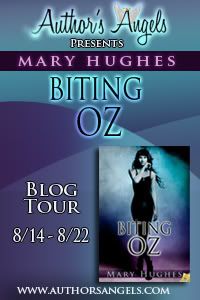 Thank you, Crystal, for having me here today!
Vampires and musicals. How was this connection made?
Well, it wasn't totally voluntary :). The sad fact of my life is that, when I try to plan it out, things often go drastically awry.
I once said I'll never write vampire stories. Needles and blood make me feel faint. What are sharp-fanged vampires but giant blood sucking needles? I do love alpha males though, and vampires are the ultimate alpha. So when I got a brainstorm for a new kind of vampire, one who drinks blood for his veins instead of his stomach (just a few times a month instead of three times a night), I jumped on it. I wrote two red-hot vampire romances that became Bite My Fire and Biting Nixie.
Why musicals? Back in 2009 the first three books in the Biting Love series released, with the fourth scheduled for early 2010. I wanted to follow them up quickly (I know, slap me with a cosmic "kick me" sign) with book five, so I picked an area that I knew a lot about—music. Specifically, I had just played Reed II in the pit orchestra for a production of The Wizard of Oz. Theater is exciting, all costumes and lights and swirling action. Playing pit is tons of fun with friends and laughter, triumphs and disasters. With so much great material to draw on, I finished the story quickly and submitted it in May of 2010.
Have you ever heard the phrase, "Due to circumstances beyond our control…"? Yeah. Obstacles sprang up out of nowhere, and book five had to wait over two years to be released.
The finished story, Biting Oz, is more than worth all the hassles. I am thrilled with how it turned out, from the dramatic cover to the excellence in editing. The story also has a few new surprises, including entr'actes from the hero's point of view and the first ever meeting of the vampire spouses of Meiers Corners, seven smart, strong women around one table.
I've learned my lesson, though. I can tell you that I'm working on Beauty Bites (Book Six), but I won't tempt fate by saying when it'll be done :).
BLURB:
Real vampires do musicals.
Biting Love, Book 5
Gunter Marie "Junior" Stieg is stuck selling sausage for her folks in small-town Meiers Corners. Until one day she's offered a way out—the chance to play pit orchestra for a musical headed for Broadway: Oz, Wonderful Oz.
But someone is threatening the show's young star. To save the production, Junior must join forces with the star's dark, secretive bodyguard, whose sapphire eyes and lyrical Welsh accent thrill her. And whose hard, muscular body sets fire to her passions.
Fierce as a warrior, enigmatic as a druid, Glynn Rhys-Jenkins has searched eight hundred years for a home. Junior's get-out-of-Dodge attitude burns him, but everything else about her inflames him, from her petite body and sharp mind to what she can do with her hip-length braid.
Then a sensuous, insidious evil threatens not only the show, but the very foundations of Meiers Corners. To fight it, Junior and Glynn must face the truth about themselves—and the true meaning of love and home.
Warning: Cue the music, click your heels together, make a wish and get ready for one steamy vampire romance. Contains biting, multiple climaxes, embarrassing innuendos, ka-click/ka-ching violence, sausage wars and—shudder—pistachio fluff.
Mary will be giving away one of her backlist, winner's choice, at each tour stop. To enter, please leave a comment with your email below. There will be a Tour Grand Prize of all 5 of her BITING LOVE series, winner will be selected from all of the commenters from all stops. Please fill out the google form below for the Grand Prize. The Grand prize winner will be selected on 8/23.
Tour Schedule